Under The Spotlight – Leslieville

Leslieville still feels very much like a small village. It's cozy houses, quaint stores, and tree lined streets, seem surprisingly serene and peaceful considering Leslieville's close proximity to downtown Toronto.
The green and white Leslieville street signs that run along Queen Street were installed in 1987. These historic markers are symbolic of a renewed interest and pride in Leslieville among the residents of this quiet east end neighbourhood.

History:
Leslieville began as a small village back in the 1850s. The village grew up around the Toronto Nurseries owned by George Leslie and sons, after whom this neighbourhood is named.
Most of Leslieville's residents were either market gardeners or were employed at one of several brick making companies that used to operate in the area.
One of the first buildings in the village was the LeslievillePublic School, built in 1863. Leslieville's first principal was Alexander Muir who composed "The Maple Leaf Forever".
Muir's poetic verse was inspired when a brilliant autumn maple leaf fell from a Leslieville tree onto his jacket. That maple tree is still standing today and has become Leslieville's most famous landmark. It is designated by an historic plaque at the intersection of Laing Street and Memory Lane.
Houses: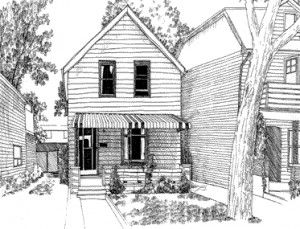 Leslieville's older houses along Queen Street, and south to Eastern Avenue were built in the late 1800's. They include Ontario Cottages, Second Empire row houses and Victorian houses.
Leslieville's second generation of houses, north of Queen Street, were built in the early 1900's. This district includes modest detached and semi-detached houses as well as a large number of bungalows, that are among the tiniest houses in Toronto.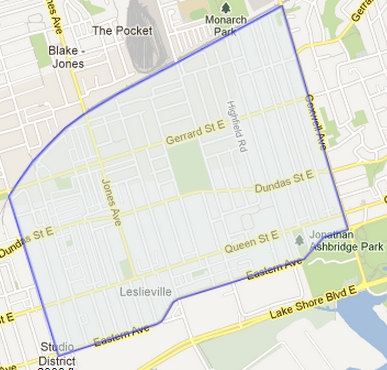 Schools:
Leslieville Jr. PS – Jr. Kindergarten to Grade 6
Bruce Jr. PS – Jr. Kindergarten to Grade 6
Blake Street Jr. PS – Jr. Kindergarten to Grade 6
Roden Jr. PS – Jr. Kindergarten to Grade 8
Bowmore Jr. and Sr. PS – Jr. Kindergarten to Grade 8
Duke of Connaught Jr. and Sr. PS – Jr. Kindergarten to Grade 8
Riverdale CI – Grade 9 to Grade 12
Monarch Park CI – Grade 9 to Grade 12
To find out which schools are associated with your prospective new home, please click here to access the TDSB Street Guide and enter the street name only.
Shopping: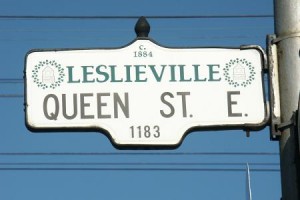 Leslieville's main shopping district runs along historic Queen Street. Most of these stores are small independently owned shops that cater to the specific needs of the local residents.
The area on Gerrard Street East between Greenwood Avenue and Coxwell Avenue is known as the 'India Bazaar'. This is the commercial centre of Toronto's East Indian community. The smell of incense and the sound of music provide an exotic backdrop to the shops on this street.
The clothing stores sell imported silk fabrics, and the restaurant vendors barbecue spicy corn on the cob out on the sidewalk.
Recreation:
GreenwoodPark has three baseball diamonds, an artificial ice rink, a pool, and a playground. The JonathanAshbridgePark on the south side of Queen Street features two tennis courts, a children's playground, and a wading pool.
The S.H. Armstrong Community Recreation Centre on Woodfield Road, has a gymnasium, an indoor pool, a fitness room, a craft room and meeting rooms.
The Gerrard/Ashdale Public Library has a wide variety of programs for children, adults and seniors.
Transportation:
Leslieville is well served by the public transit system which operates bus or streetcar routes on Carlaw, Jones, Greenwood, Coxwell, and Eastern Avenues, as well as Queen and Gerrard Streets. Most of these bus routes link up with stations on the Bloor-Danforth subway line.
Motorists can be downtown in minutes. Lake Shore Boulevard, the Gardiner Expressway and the Don Valley Parkway are also close by.
---
Please Note: The neighbourhood profile text and sketch were originally published in "Your Guide to Toronto Neighbourhoods", © Maple Tree Publishing Inc., and have been reproduced under license.